To use the HTML form submission by e-mail, enable JavaScript in your e-mail client. Please note that many of the popular Web-based e-mail systems such as Yahoo.com and Mail.com/Email.com intentionally disable JavaScript in messages, and there is no way to re-enable it. Below are instructions for enabling JavaScript in some popular e-mail readers. (Different versions of these readers may be slightly different in the details, but are probably similar.) For more information about these readers, please check the documentation for the software or visit the vendor sites.
Mozilla Messenger
From the menu bar, choose Edit, then Preferences.
Select Advanced from the list of options, then Scripts & Plugins.
Click the box Enable JavaScript for Mail and News.
Outlook Express
From the menu bar, choose Tools, then Options, then Security.
Under Virus Protection, then under Select the Internet Explorer security zone to use, select Internet Zone (less secure but more functional).
Outlook 2000
From the menu bar, choose Tools, then Internet Options.
Select Security Tab.
Under Secure Content, select Internet Zone.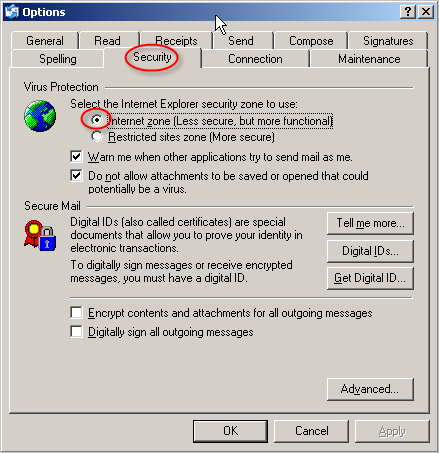 Problems with E-mail Stationery in Outlook 2002
If you have the Preview Pane enabled, note that Outlook 2002 will never display stationery as intended in the preview pane. It always has "scripting" turned off for the preview pane and cannot display advanced effects there.
To view a received stationery in Outlook 2002 you must double-click the e-mail to open it in a separate window, and then in the message window click on View and then under that on View in Internet Zone. (If you do not have this option in your View menu, please read the following paragraphs.)
There is also a feature in Outlook 2002 which is supposed to permanently enable the viewing of messages in the Internet Zone as above, so that you don't need to manually select this every time. This option is in the main Outlook 2002 window, under Tools, Options..., the Security tab. Under Secure Content beside Zone you are supposed to be able to select Internet instead of the default Restricted Sites.
Unfortunately, the Zone setting, which is supposed to permit viewing of stationery, has a bug and can cause a worse problem if enabled. In the initial release of Outlook 2002, using this setting does not actually put you into the Internet Zone but it does remove the View in Internet Zone option from the message window's menu. The result is that you then cannot view stationery at all! We hope that this bug will be fixed in a service pack. In the meantime, if you try using Tools, Options, Security, Zone to select the Internet Zone, and the result is that stationery still does not work, we recommend changing that setting back to Restricted sites and then using the method described earlier when you view an e-mail stationery message.