To add a message using the HTML form in the e-mail notification messages:
Create a notification rule for the project.
Choose the HTML e-mail template for this notification rule.
Use Web form at the bottom of the notification e-mail to enter the message information.
Click the Create Message button.
Enter message description and attach files.
Send e-mail to TrackStudio.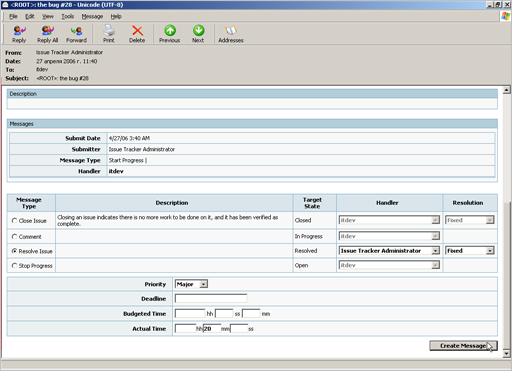 To add a message of the default message type using plain text e-mail:
Create a new message in your e-mail client.
Enter a task number (like #23) into the e-mail subject.
Enter a message description into the e-mail body and attach files.
Optional: To change the task handler, enter the name and the e-mail address of a new handler in the CC field.
Send an e-mail notification to the e-mail defined in TrackStudio e-mail settings (mail.store.user property in trackstudio.mail.properties).